Heat Exchangers
Plate type Heat Exchanger
The core part of heat exchanger (plate pack) has been developed and supplied by GEA PHE Systems in Germany. And, we will be able to ensure to our clients of its high performance and quality thanks to the very sophisticated design, fabrication facilities and quality control of them. In the application for food processing systems, the cumulated IFM's technologies for more than 80 years ensures the clients reliable, easy maintenance, safe and economic operation in pasteurizing / sterilizing process.
In 2008, we introduced NT-type plate pack, by which the less heat transfer area (smaller installation space) and uniform temperature distribution in the plate were achieved.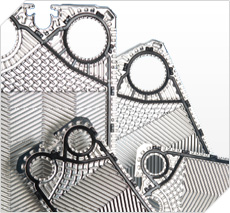 Shell & Tube type Heat Exchanger
We have been supplying of our own designed Shell and Tube type Heat Exchangers, for years. This type heat exchanger is applicable for various kinds of beverage such as fiber-rich, high viscous liquid foods. The energy saving operation, space saving installation and easier cleaning are available.
Lately, we developed the smaller application type with the same performance.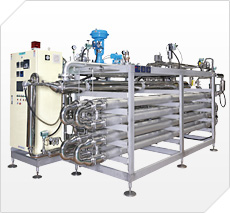 Dasher type Heat Exchanger
IFM also has been supplying Dasher-type Heat Exchanger which enable the effective cooling of high viscosity products such as ice cream, bean paste after pasteurizing by Joule Heater, etc.